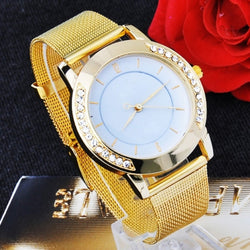 Classic Watch Women's Wrist Quartz Watch Gold
100% Brand New.
Color: Blue, Orange, Red, White, Purple
Size: 7.3 x 6.0 x 2.9 cm / 2.9 x 2.4 x 1.1 inches
Bluetooth edition: Bluetooth 2.1+EDR Class 2
You must ever miss phone calls because you didn't hear your phone ring tone?
Our bluetooth bracelet will give best reminders, vibrating around your wrist.
Vibration also prevent your cell phone from losing and forgetting.
Bluetooth Standby for 168 hours is a wonderful gift to your families and friends.
Best mate of cell phone (Android version and iPhone version), prevent phone from losing and forgetting
Synchronize through Bluetooth, answer call by pressing a button
Fashion design
Easy to wear and use
APK installation, used for reading synced SMS only works for Android phones, can be downloaded through the after sale center of our site
The bracelet is charged through standard Micro USB input port
Specification:
General People: Unisex
Style: Fashion & Casual
Watches categories: Digital watch Dial Shape of the dial: Arch
Movement type: Digital watch
Display type: Numbers
Function Screen: OLED capacitive touch screen display
Pedometer: 3D gravity sensor gyro
Memory: 32M
Speaker: 0.9W microphone: 38DB flat vibration motor: 8 x 2.7 mm
Bluetooth version: 3.0
Battery capacity: 300mAh
Charge time: 1-2 hours
Standby time: 168 hours
Charging: DC 5V / 1A (Please check the charger specification when charging)
Charging interface: Universal standard for micro USB Weight and Size The dial thickness: 1.2 cm / 0.5 inch
The dial diameter: 2.9 cm / 1.1 inch
The bracelet inner perimeter: About 18.0 cm / 7.1 inch
Pls know that this item is only suited for remember phone number. The memory is 32M, which can remember about 600 numbers.
Processing Time: 
Most clothes will be shipped out in 2-3 days.
Most shoes are hand made will take about 7 days to process. 
Shipping Details: 
Standard Shipping: 7-25 days to US, CA, AU, UK; 7-35 days to other countries.
Express Shipping: 2-10 days to US; 2-13 days to other countries
May Your Fashion's Store Refund Policy
When you buy from May Your Fashion's Store, we want to make you completely satisfied. If for any reason you are not satisfied with the items you bought, you can exchange it or ask for refund. Please contact our Customer Service by emailing us @orders@mayyourfashion.com for the return address, which where you'll can send the package back to us, and if you have further question.
Return or exchange within 7 days from the delivered date
The return policy is below: 
A.If the item with some damage, please take some photos of it, after we confirm with that, we will refund you(maybe part maybe full refund) depending on the circumstances.
B.You choose a correctly size but it not suit for you, please measure the item's size, 
a.if it is the same with our product descriptions, you can ship it back, but you should offer the back and forth shipping fee. When the tracking information shows it do going back to us, we will refund the product price in 2-3 working days.
b.If it is not same with our descriptions, we will refund you according the problem.
Return Information: 
1) May You Fashion's Store the unconditionally returns from our customers are acceptable within 7 days from the date your package has been shipped. We will check when we received the package that you have returned. Upon our confirmation, they will then issue a refund to you. Refunds are for the cost of the product only. Shipping costs are not included.
Please also, inform us of the following information,
*Order No. (for example, order #: 100)
*Quantity of each item including item #(for example, items #: 123456)
*Photo of the shipping label on the package has sent to you, scan it and send to orders@mayyourfashion.com
Why you have to do this?- To make your package recognized quickly and we can refund money to you as soon as possible.
Please make sure the products are unused and will not affect the secondary sales. No refund will be given if the items has missing, no original packaging, used, worn, washed, no tags, products with odors, such as smell perfume, smoke, pet hair, etc.
2) Please note: You are responsible for return shipping costs. We recommended keeping your shipping receipts until your return is processed. may You Fashion's Store is not responsible for missing, damaged, or packages lost in transit.
3)Processing: All orders are subject to a 2-5 business day processing prior to shipping, 80% will be done within 24 hours. We do not process or deliver orders on weekends or holidays.
4)Estimated Delivery time: To United State take 7-23 Business days
Other countries: 12-45 Business days
****Important notice:****
May You Fashion is not responsible for missing, damaged, or packages lost in transit. You, as our customer must provide your proper shipping details before checkout. Thank you for your cooperation.